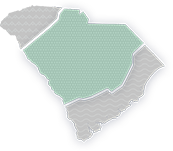 SC Midlands BBQ Trail
Most folks have an allegiance to one sauce over the others—what's yours? Share your barbecue tasting adventures by using #SCBBQ and let us know.
In the Midlands you'll find both a mustard-style sauce, often thought of as South Carolina's unofficial state sauce, and a light tomato sauce reminiscent of the vinegar and pepper sauce with ketchup added for a hint of sweetness.