The Saluda River is 200 miles long.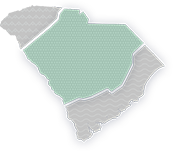 Experience a trip for the ages in the heart of the Palmetto State. Whether you're catching a horse race in Aiken, whitewater rafting on the Saluda River or exploring the capital city of Columbia, you'll never run out of things to see and do in the Midlands of South Carolina.
Search below to find out more about all that South Carolina has to offer. From all-inclusive itineraries to tips on how to navigate your way through the state, we have all of the information you need to make your next trip to the Palmetto State an unforgettable adventure.