Vivez de grandes aventures en Caroline du Sud !
Plages et îles de Caroline du Sud
Les 301 km de plages de sable blanc de la Caroline du Sud sont spectaculaires, et sachant que la Caroline du Sud bénéficie de 10 mois de temps chaud chaque année, vous pouvez en profiter n'importe quand. Visitez la célèbre grande plage de Myrtle Beach, la ville historique de Charleston et la magnifique île de Hilton Head tout au long de l'année.
Découvrez la côte de la Caroline du Sud
Parcours de golf de Caroline du Sud
Vous aimez le golf ? La Caroline du Sud posséde plus de 350 parcours de golf, certains sur le front de mer, d'autres au sommet des montagnes et des centaines d'autres entre les deux. La Caroline du Sud est la premiére destination de golf en Amérique, et nos parcours de renommée mondiale sont ouverts toute l'année !
Découvrez le golf en Caroline du Sud
Play in the footsteps of legends. Reserve a round on The Sea Pines Resort's world-famous Harbour Town Golf Links. Home to the RBC Heritage Tournament, this distingui...
Built on the site of a working Southern rice plantation, Caledonia has been recognized for its design and incredible beauty. From the entrance lined with centuries-o...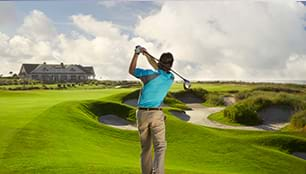 The genius of the Ocean course is not its difficulty so much as Dye's ability to make it appear even tougher than it is. He built it immediately after Hurricane Hugo...
Restauration en Caroline du Sud
À la recherche de la gastonomie ? Certains des meilleurs restaurants américains se trouvent à Charleston, et les grills de Caroline du Sud connus dans le monde entier sont présents partout dans l'État. Depuis le repas fermier jusqu'à la cuisine familiale du sud, la Caroline du Sud a de quoi ravir tous les palais.
Découvrez la cuisine de Caroline du Sud
Focusing on distinctive, sustainable seafood dishes, Hook & Barrel delivers a sophisticated culinary experience with a relaxed beach vibe.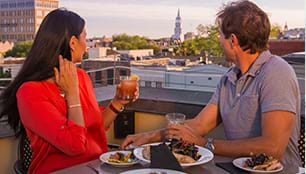 The Vendue is a combination of two unique boutique hotels – 19 Vendue and 26 Vendue – located across the street from one another. 19 Vendue is housed within five his...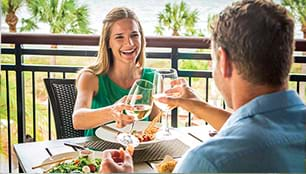 The Sea Pines Beach Club has the best view in Hilton Head. Check it out before hitting the links....
Voyage en famille en Caroline du Sud
Quelle que soit la saison, il y a toujours quelque chose de nouveau à découvrir en famille, en Caroline du Sud. Avec une météo clémente toute l'année, une restauration familiale dans l'ensemble de l'État, des montagnes à explorer et des plages pour se relaxer, tout y est !
Vacances découverte de la Caroline du Sud
From whitewater rafting and zip lining to mountain biking and motor sports, South Carolina is home to a wide range of exciting outdoor adventures.
From history to natural beauty, Charleston offers families plenty of activities to have fun and learn a little something along the way....
This 350-acre shopping, dining and entertainment complex features more than 125 specialty shops, 20 restaurants, 10 nightclubs and 15 attractions such as Myrtle Wav...
Attractions à ne pas manquer
La Caroline du Sud possède des plages, des parcours de golf, des parcs, des maisons de planteur, des sites historiques et des parcs à thème parmi les plus renommés du pays. Que vous recherchiez une aventure en montagne ou un moment de détente sur la Myrtle Beach, la Caroline du Sud a de quoi vous satisfaire, quel que soit votre état d'esprit.
Découvrez la Caroline du Sud
Informations voyage en Caroline du Sud
Si vous prévoyez un voyage en Caroline du Sud, n'oubliez pas de jeter un oeil à notre gamme de cartes de vacances et des guides, des bureaux internationaux de courtoisie, Informations sur la compagnie et de l'information d'exemption de visa.